The ancient melody composed at the beginning of the 17 th century by Michael Praetorius, Es ist ein Ros entsprungen, finds an echo in the recent version by Jan Sandström with a double choir. This...
+
Leo Warynski has proposed the recording of the great classics of choral singing to the NoMadMusic label. This recording takes place in April 2019 and will be accessible via a NomadPlay application allowing music lovers...
+
Marc-Antoine Charpentier is the author of an original and very personal music, which flourished in choral music. This program celebrates the exceptional expressive power of this heritage, nourished by a sensibility that balances ideally between...
+
A program that honours American vocal music from the 20 th and 21 st centuries, with emblematic composers from that country's great choral tradition. Whether it's Barber – and his famous Agnus Dei, but also...
+
Transposition for the stage of 200 Motels, a hallucinatory film by Frank Zappa recording the life of a rock band on tour, 200 Motels - The Suites is an impressive musical/theatrical fresco, premiered in France...
+
Resolutely contemporary and creative, L'Envers du décor invites to a rediscovery of the Palace of the Golden Gate through the interventions of young artists. Live the Palace differently for a weekend with concerts, performances, installations...
+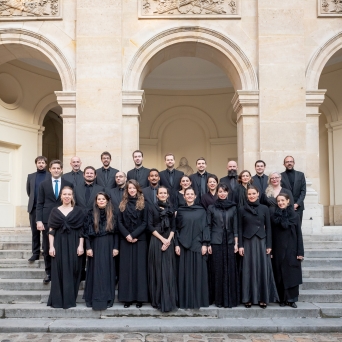 The 2018 Prix Liliane Bettencourt for choral singing (bestowed in partnership with the Académie des Beaux-Arts) was awarded to the choir Les Métaboles, created in 2010 by Léo Warynski, dedicated to the repertoire for a...
+
Around the "La cante de la Paix" of the young Russian composer Dimitri Tchesnokov, whose Metaboles often interpret the works, a program that alternates songs of war and songs of peace.
+
ARCO – Art, Research and Creation Opus 2019 – is a binational university of composition, association between the Gmem-Marseille (one of the French National Center of Musical Creation) and the Mozarteum University Salzbourg. Hosted by...
+